Tolomatic Live Demo Studio
How do you do a customer demo online?  We have an Answer.
Put our Demo Studio to Use:
Build sales by educating your customers in interactive meetings. We will customize the meeting to cover the information most relevant to your customer. Visit Tolomatic.com/tolotalks for ideas on topics.
10-15 min. Product Introduction: Allow us to showcase a product or application to your customers and answer their questions.
30-45 min. Interactive Sales Call: Conduct an interactive sales call in real time with all of our physical demos available to be used.
1-2 Hour Lunch & Learn: Educate customers on our products, applications, technology and/or linear motion from the experts.
Uses:
Moving demos to show control, speed, infinite positioning capability
Product line introduction showing product families, features and benefits
Training with customers
Introduction to Tolomatic Leadership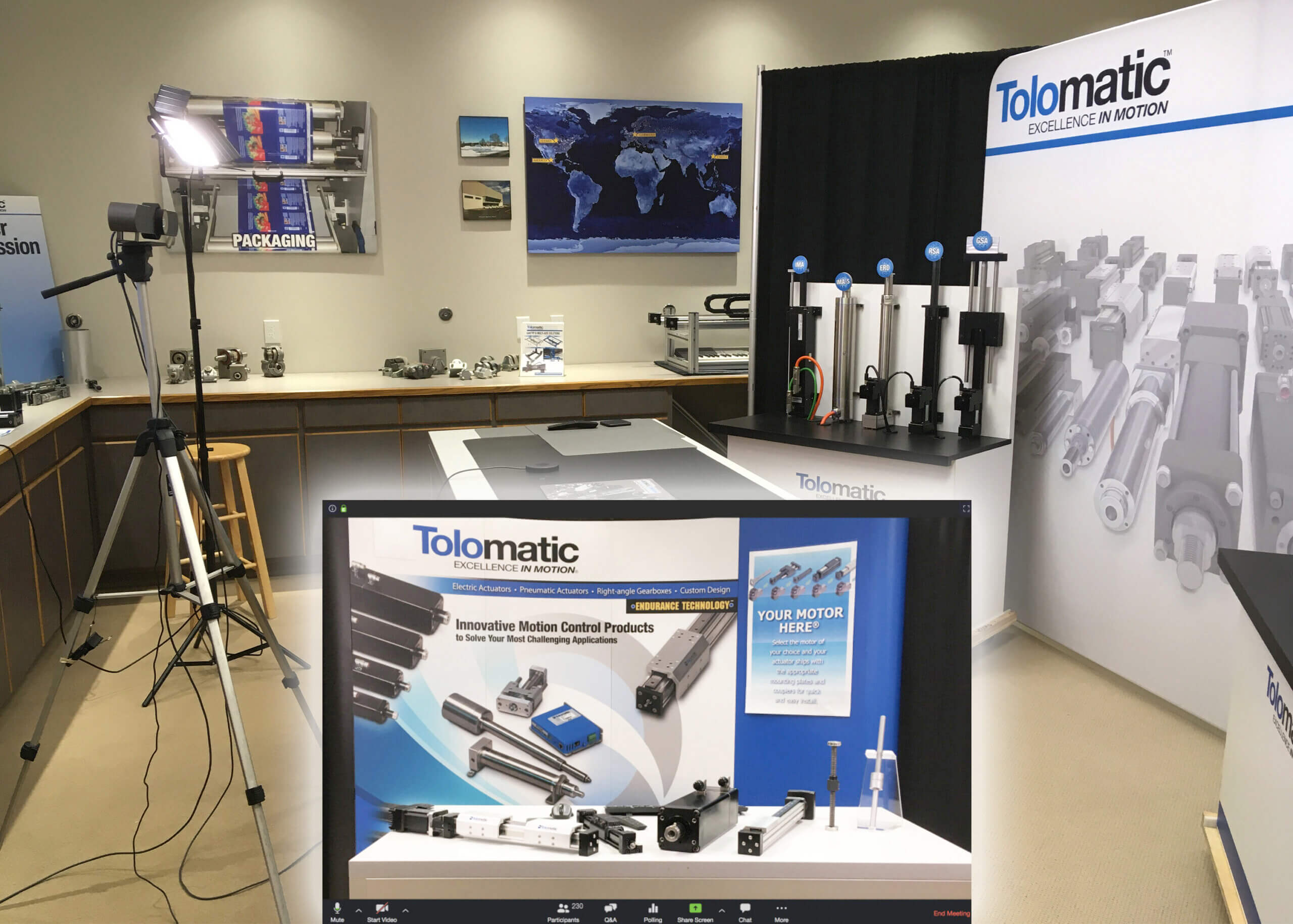 RSA & ACSI: Moving / Control
Ability to have your customer 'remote control' the motion profile
Show the infinite positioning capability
Show the ability to control accelerations and decelerations
---
ACS Servo Drive: Interactive
Demonstrate servo control
Learn about TMI software
Understand rotary mode for ACS/ACSI
---
Hygienic Washdown Products
with Water and Movement
Shows multiple actuator solutions
IP69K features
Hygienic design
---
Gantry System
Shows an X + X', Y and Z axis of movement
Demonstrate a jack shaft design
Combination of rodless and rod style actuators
Review mounting plates, cable management and more
RSA Servo Pressing
Repeatable and controlled motion profile.
Incorporate of a load cell for data or control
Combination of rod style electric actuator and servo motor
---
Dual Direction MX
Modified standard solution
Ability to center material, move two doors, act as a gripper, etc.
---
Hydraulic Conversion
Calculations
Work through a hydraulic to electric conversion
See the important parameters to document and the calculations to do
---
Customize Your Own
Conveyor Side Guide Adjustment
Multiple positions are easy and repeatable and fast
---
LZT / ServoPlace
Fastest rod style electric servo actuator

Ability to place nuts and studs consistently for welding

Motion control of acceleration, velocity and fast deceleration
---
Roller Screw Technology
and Various Sizes
Show the basic advantages of planetary rollers screws

The key components

Multiple sizes
---
Automatic Drink Mixer
Combined rodless and rodstyle actuators

Shows an X and Y, mult-axis system

Multiple positions, moves and precision