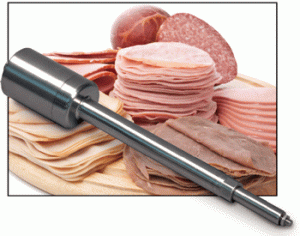 Meat Slicing
Product Family: Electric
Products Used: ERD15 with SS2 option electric cylinder
Product Type: Standard
Application Requirements:
Stroke: 2 inches
Application Description: 
Meat slicing blade adjustment.
Challenge:
An OEM (Original Equipment Manufacturer) of meat processing equipment needed a solution to position the cutting blade with infinite positioning capability. The customer had been utilizing manual hand-crank adjustment which was time consuming to dial in the process and prone to human error. The electric actuator solution needed to be capable of connecting to an Allen Bradley CompactLogix® PLC utilizing Ethernet/IP®.
Tolomatic Solution:
An ERD15 electric actuator with SS2 option and a standalone drive were chosen to easily connect to the PLC and provide the customer with infinite positioning capability. The all stainless steel ERD15SS2 electric cylinder houses the motor within an enclosure which protects the motor from moisture during the frequent wash-down cleaning of the equipment.
Customer Benefit:
Infinite positioning allowed customer to accurately dial in slice width to eliminate waste
Significant savings on cost of meat for end user by eliminating potential for human error making slices too large
Integration into existing PLC Ethernet network saved design time
FBT-019