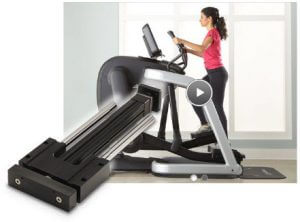 Life Cycle Testing
Product Family: Electric
Product Used: GSA Linear Slide Actuator
Product Type: Standard
Application Requirements:
Stroke: 24.55 inches
Speed: 10 in/sec
Load: 400 lb
Motion Profile: Trapezoidal
Application Description:
Research and development life cycle testing on new elliptical machine.
Challenge:
A manufacturer of commercial health equipment needed to test their premier fitness equipment. Previously tests were conducted hydraulically. These tests determined product failure point but could not generate responsiveness or feedback.
Tolomatic Solution:
A GSA32 linear slide actuator was chosen for this application. The GSA provided coinvent mounting that fit well with their existing test equipment. The GSA can withstand some moment load and the customer felt it might be a useful feature for its tests.
Customer Benefit:
Fully programmable solution providing positional feedback for required research data
Quick response allowed for more realistic testing scenarios
COMM-009-E