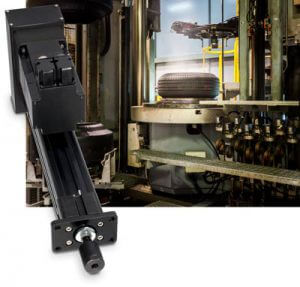 Green Tire Transfer
Product Family: Electric
Product Used: RSA32 Screw-Drive Electric Rod-Style Actuators
Product Type: Standard
Application Description:
Transferring tire in & out of curing station during automotive tire manufacturing.
Challenge:
A tire manufacturer used pneumatic cylinders to control the process of placing green (raw) tires into a curing process, then onto a conveyor belt. The accel/decel of the cylinders could not be repeatably controlled, resulting in tire shifting after initial placement (3 – 4 seconds each), which added significant time to the process.
Tolomatic Solution:
Tolomatic's RSA32 electric rod actuator allowed smooth acceleration and deceleration, eliminating the tire rocking issue, reducing the overall cycle time.
Customer Benefit:
Increased throughput with improved cycle time (by several seconds) for each tire
Increased flexibility of machine to better handle different tire sizes without manual changeover
Lower electric utility costs with efficient electric actuator
RBRPL-012-E