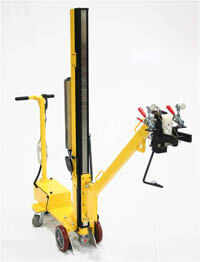 Ergonomic Lift
Product Family: Electric
Product Used: B3S15 Screw Drive Actuator
Product Type: Standard
Application Requirements:
Stroke: 40 inches
Speed: Low (not a requirement)
Load: 300 lbs
Moments: 750 ft-lbs (My)
Motion Profile: Trapizoidal
Application Description:
Removal and reinstallation of tooling fixture for on-site cleaning.
Challenge:
A leading manufacturer of breakfast foods was looking for an automated solution to improve ergonomic conditions for their workers. The current process being used to remove a 300 lb tooling head for cleaning was causing strain and stress for workers. The tooling head needed to be easily and quickly removed from the machinery by workers and cleaned on site several times a day in their waffle making process. It also required a fast install to reduce downtime.
Tolomatic Solution:
A manually propelled cart was made with a vertical lift powered by a B3S15 electric screw actuator. The B3S15 actuator provided the lifting force and position control for the tooling head removal and installation.
Customer Benefit:
Simplified change-over process making tooling head removal easy to perform
Eliminated strain and stress for workers
Increased production by minimizing change-over time
FBT-007-E