Tolomatic Adds Press Model to RSX Extreme-Force Electric Actuator Family
By Ryan Klemetson on May 30, 2019
---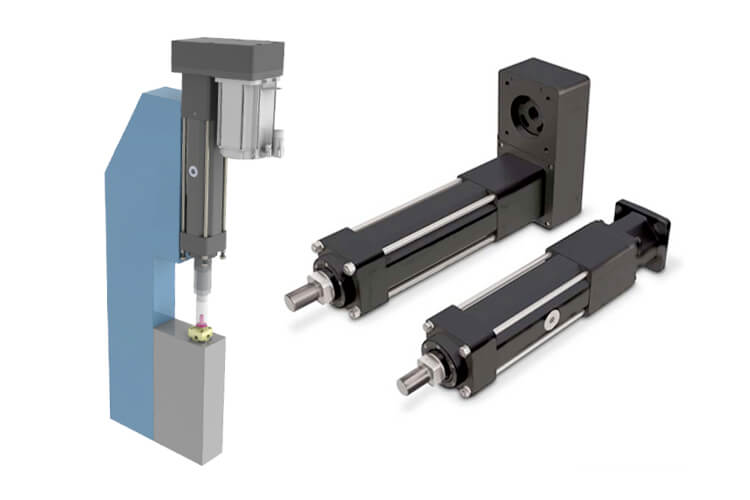 Designed for applications in the metal-working, automotive and other heavy industries that require high force in the extend direction, the press-model actuator is more efficient, accurate and cleaner compared to hydraulic cylinders.
Tolomatic's new RSX press model (RSX096P) electric linear actuator increases the force range of the existing RSX product family to 40,000 lbf (178 kN) and is designed to be optimized for force in the extend direction. The RSX press-model electric actuator is ideal for metal-forming and assembly including pressing, punching, stamping, riveting, fastening and joining.
The existing RSX080 (18,000 lbf / 80 kN) and RSX096 (30,000 lbf / 133.4 kN) electric linear actuators meet the need for many extreme-force push/pull applications traditionally done with hydraulic cylinders. The entire RSX family is designed and tested for high duty-cycle applications. The actuator's planetary roller screw provides reliable operation and long, consistent life.
"Adding the press model to the RSX extreme-force electric actuator family allows machine designers to utilize an actuator platform optimized for high-force, industry-specific applications," said Daniel Schmit, product manager, Tolomatic. "Many assembly applications in the metal-working, automotive and other heavy industry require high forces over a localized area, such as pressing, joining, riveting and many others."
The RSX096P press model is upgraded with larger tie-rods and an optimized bearing system, as well as a high-strength front-mounting flange. The entire RSX actuator family's heavy duty construction includes tie-rods and Type III hard-coat anodized aluminum or zinc-plated steel. A standard anti-rotate feature prevents the rod from rotating without external guidance. Rated IP67, the actuator resists ingress from splashing water and dusty environments. An extended temperature range option is designed for outdoor applications.
Tolomatic's "Your Motor Here" feature allows for servo motors and gearboxes up to 215mm frame size. Additional features include an access port for re-lubrication to maximize service life and a breather/purge port to prevent ingress into the actuator. RSX actuators are built-to-order with configurable strokes, flexible mounting options and shipped with industry-leading delivery.
About Tolomatic
For more than 60 years, Tolomatic has been a leading supplier of electric linear actuators, pneumatic actuators and power transmission products for factory automation. Its extensive product line also includes servo-driven high-thrust actuators, servo motors and stepper motors, stepper drives and configured linear-motion systems. Tolomatic's electric linear and pneumatic actuators are used in a variety of industries, including the packaging, material handling, medical, food processing, automotive, semiconductor and general automation industries. For more information, contact Tolomatic, 3800 County Road 116, Hamel, MN 55340. Phone: 763-478-8000 or 800-328-2174. Website: www.tolomatic.com.
Visit Tolomatic's Linear Actuator Blog
Tolomatic's new RSX096P press model hydraulic-class electric linear rod actuator meets the need for extreme forces in metal-forming applications and is an ideal choice for replacing hydraulic cylinders (motor not included). Photos: Tolomatic, Inc.