Electric linear actuator selection tips: Consider the environment
By Gary Rosengren on August 4, 2015
---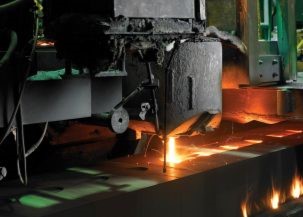 When you're faced with electric linear actuator selection, one of the early considerations has to be the industrial environment in which it will operate. Will there be dust? How much dust and what kind? Will there be moisture? Direct spray? High temperatures and pressures? Corrosive substances?
These factors affect the performance of an electric linear actuator and may point to the best type for an application. For example, an electric rod actuator can better handle dusty, wet conditions well because its critical working components are shielded within the body. Rodless electro-mechanical actuators, on the other hand, must be shielded from heavy dust and moisture since vital components are exposed.
You use your knowledge and experience as a machine designer to make the best equipment choices, plus you may look to rating systems that help. The IP rating system covers many of these tough conditions and is the system we use. Download our white paper on how the IP system relates to linear actuators.
IP rating system
The Ingress Protection (IP) system was established by the International Electrotechnical Commission (IEC) and the European Committee for Electro Technical Standardization (CENELEC) to cover electrical equipment and enclosures. IP ratings consist of two numbers. The first is the rating for dust protection. The second is for protection from liquids.
Dust protection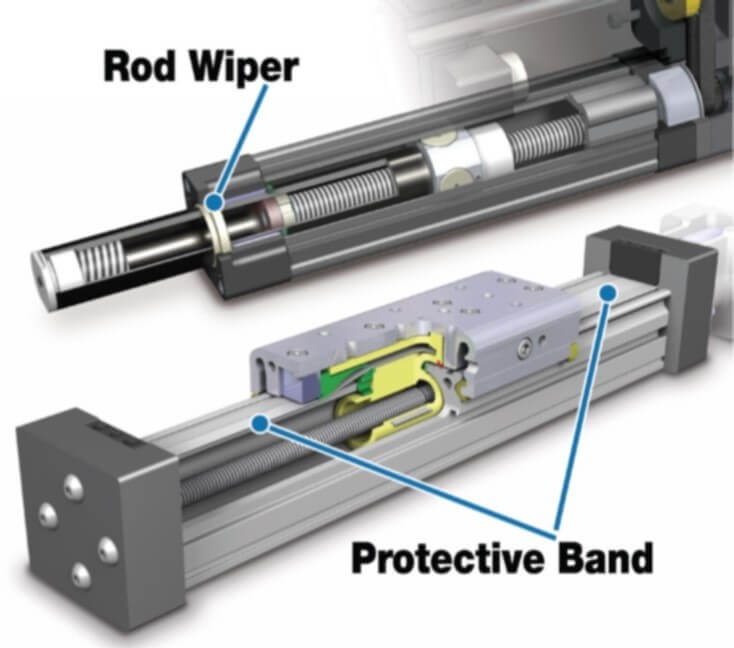 Dust in manufacturing environments can be light (like in paper processing) or heavy (as in woodworking or metal grinding). For light dust, an IP 5X rating (Dust Protected) is needed, while heavy dust in the environment calls for an IP rating of 6X (Dust Tight).
There are both rodless and electric rod actuators rated IP 5X. (A commonly-found rating is IP54.) The rod wiper and gaskets on a rod actuator keep dust away from working components. The protective band on a rodless electro-mechanical actuator serves the same purpose.
When it comes to heavy dust, though, only rod-style models can be found with an IP 6X rating. Rodless designs need additional shielding to function in heavy dust. Look for a rating of at least IP65 for environments with heavy dust.
Protection from moisture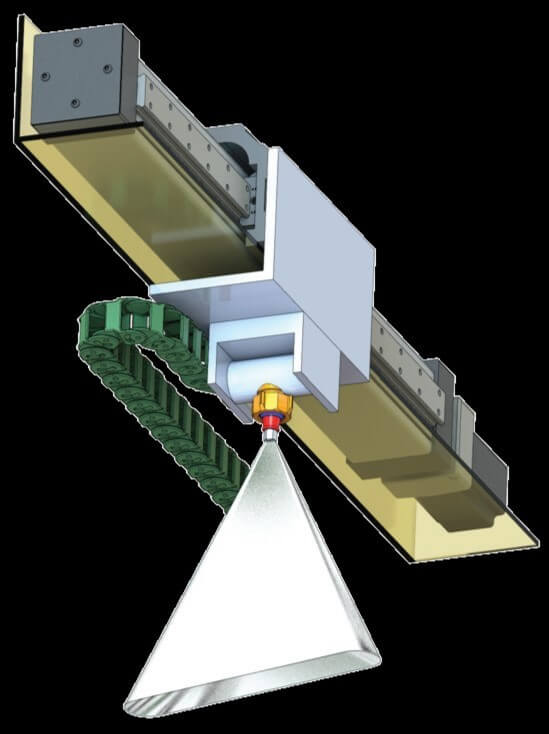 As with dust, there are different levels of protection from moisture depending on pressure, temperature, directionality and so on. In industrial environments ratings of IP X5 and greater are common.
Rodless models have too many ingress points that leave working components unprotected. Rodless units have to be shielded in order to function in wet conditions.
Rod-style models with appropriate rod wipers, gaskets and seals can achieve ratings of IP65 and IP66. With further water-shedding design modifications and motor protection, they can achieve IP67 or even IP69K ratings. IP69K is often required in food processing applications where equipment washdowns are required.
Protection from corrosive agents
Some food processing washdown procedures use caustic chemicals, while other industrial environments include other corrosive agents. The IP rating system doesn't deal with corrosion; however, the presence of corrosive agents needs to be on the designer's mind since these substances can harm equipment. Type 316 stainless steel is a good corrosion resistant material choice for bodies and fasteners. Viton® is a good corrosion resistant choice for gaskets and seals.
IP69K hygienic electric rod actuators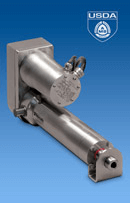 Tolomatic offers stainless steel hygienic actuators as part of our popular ERD line. The 22", 25" and 35" models are IP9K rated and feature all stainless steel construction for resistance to corrosion. Their rounded body design, protective motor housing, and comprehensive sealing mean the ERD can stand up to frequent washdowns.
USDA certification is an available option for actuators used in meat, poultry, and dairy operations. These very demanding processing environments have a focus on cleanliness. ERD models are available in reverse-parallel and in-line motor mount configurations.
Download our catalog for ERD electric cylinders.
Learn More
Download our white paper on the IP system and how these ratings relate to linear actuators.