3 steps to simpler linear actuator selection with new website
By Tolomatic on September 1, 2015
---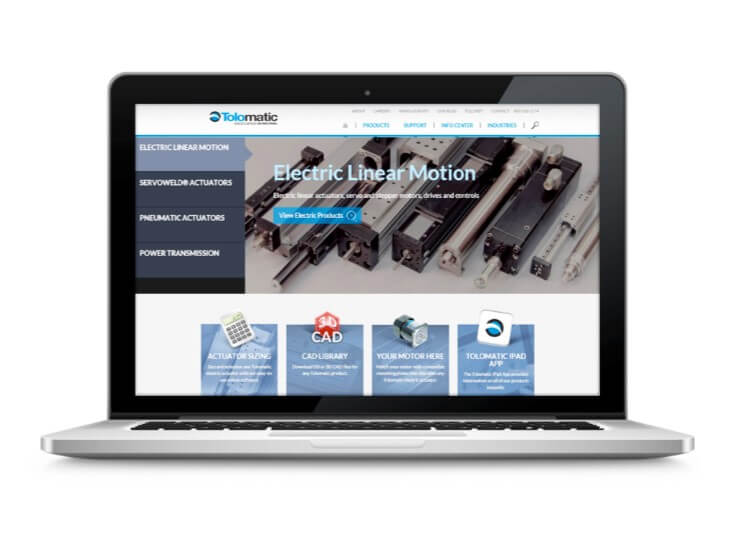 Visit www.Tolomatic.com and you'll see something new. Our site's been redesigned with a fresh, contemporary look. But even more exciting is that we've reorganized the site with simpler linear actuator selection, specification, and ordering in mind. In fact, on our new website, it takes three clicks or less to get the information you want.
Tolomatic is a leader in motion control. Click here for brochures on our electric linear motion product offering and pneumatic actuator line.
3 steps to simpler linear actuator selection
1. Find the product you want
Starting on our new home page, you can select the product category you're interested in (Electric Linear Motion, Pneumatic Actuators, or Power Transmission).
If you click on Electric Linear Motion, for instance, and you can then choose the type of electric linear motion device you need (Rodless electro-mechanical actuators; Electric rod actuators; ServoWeld®; Motors, drives, gearheads).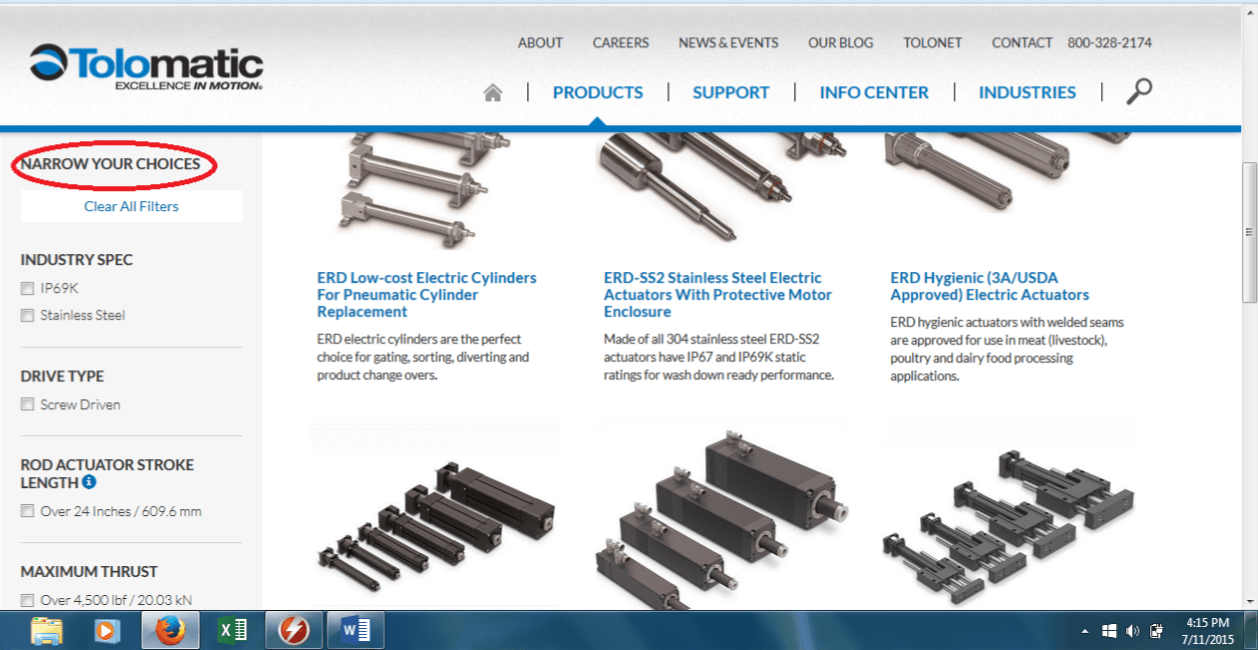 If you select electric rod actuators and you'll see our offering in this category. You also can select parameters to narrow your search.
If your search leads you to our ERD stainless steel line (ERD-SS2), you'll see a comprehensive overview of tha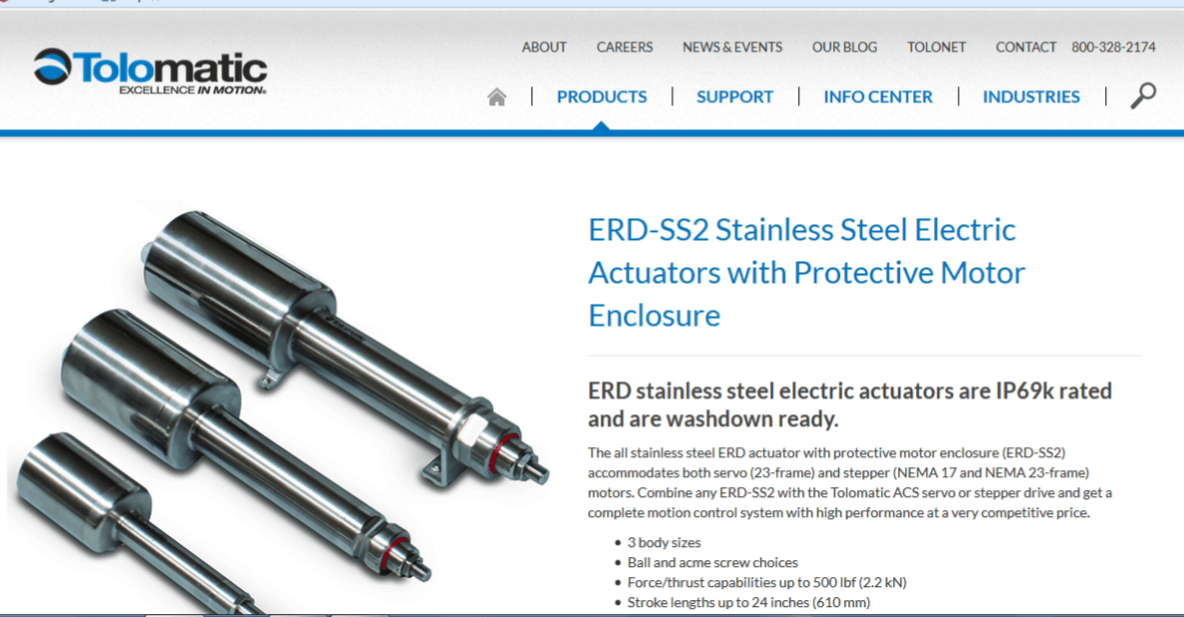 t offering.
Then it gets even better. Scroll down the page a bit and you're only a click or two away from all the information you need.
Product brochures, features, specs, CAD drawings, technical bulletins, white papers, blog posts are all there for you. Click a button and get the information you're looking for.
2.  Use our specifying tools
The new website makes it even easier to find our popular Sizing Software, CAD library with ModelBuilder and Your Motor Here program tools. Scroll down the home page and you'll find prominent buttons. Visit a product page and the links are there, too.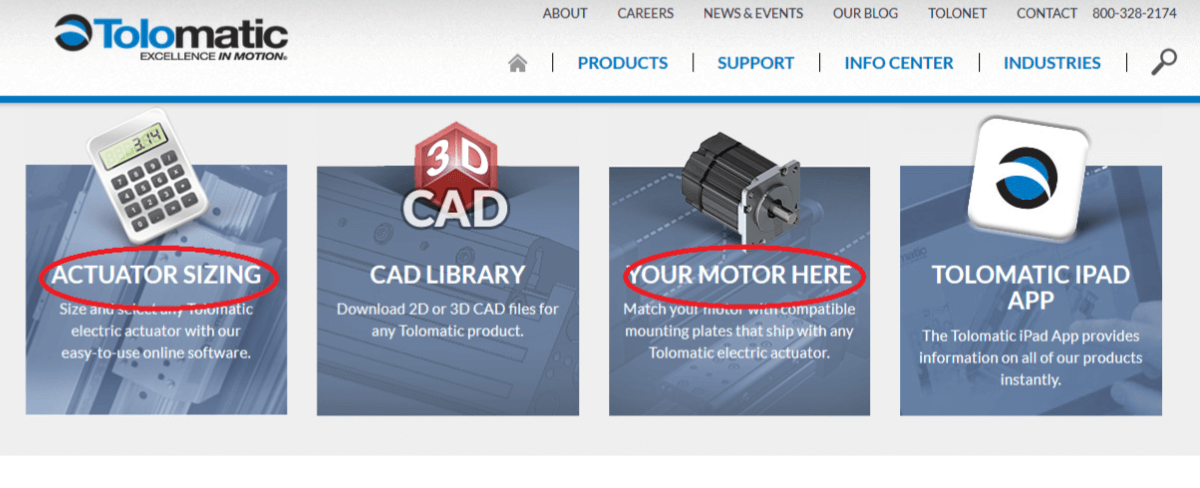 If you're looking for a specific brochure, white paper or other information, use our main menu to select the information type you need or use the search function. We think you'll appreciate our new faceted search function that organizes results by type. It's another way to get to the information you need quickly.
3.  Request a quote

When you know the product you need, use our Request a Quote page to submit your product for pricing and timing.
If you need assistance, you have options. Find a local distributor using our search tool. Or our headquarters staff is ready to serve you. Call the toll-free number listed on every page (1-800-328-2174) or send an email to help@tolomatic.com.
Learn more
Click here for brochures on our electric linear actuator and pneumatic actuator lines.